According to New Jersey law, surcharges are applied when a driver accumulates too many points or is found guilty of a certain infraction. The State of New Jersey employs the NJ Surcharge program to impose additional costs through the Department of Motor Vehicles that are typically very large in sum.
In fact, New Jersey is the first state in the United States to employ such a system for surcharging. You must pay NJ DMV/MVC surcharges if you are found guilty of certain driving violations in New Jersey, enter a guilty plea, or if you receive six Motor Vehicle Commission (MVC) points in a span of three years or less. If you want to know more about the NJ Surcharge Payment system, you have come to the right place!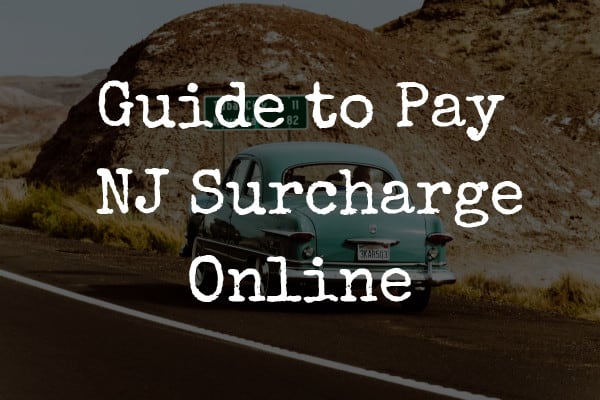 What Is An NJ Surcharge?
The New Jersey State Assembly established the New Jersey Merit Program, which mandates that Motor Vehicle Services collect insurance surcharges from drivers whose driving records contain specific motor vehicle violations. Any fines and penalties imposed by the court, as well as any premium or surcharge costs imposed by insurance companies, are in addition to the surcharges.
Through the Department of Motor Vehicles, the State of New Jersey uses the New Jersey Surcharge program to levy extra fees that are generally two to three times the penalty for a traffic violation.
Which Violations Are Subject To Surcharges?
There are certain infractions that can lead you to be surcharged by New Jersey's Department of Motor Vehicles. Here are some of them:
Drivers will need to pay hefty fees if they are charged with drunk driving. A drunk driving infraction carries a fee of $1,000 for three years.
A driver must pay an insurance surcharge of $100 for the first six points and $25 for each subsequent point if they receive six or more points in a period of three calendar years or fewer.
If you are found driving without a license, you will be charged $100 a year for three years.
If you are caught driving while you are suspended or have no liability insurance, you will be charged $250 a year for three years.
How Is The NJ Surcharge Calculated?
Surcharges are always imposed on drunk driving and drug-related motor vehicle crimes. If this was your first or second offense, the fee for a DUI conviction would be $1,000 each year for three years. A third or subsequent infraction that takes place within three years of the first violation carries a $1,500 fee for three years.
Within three years after your most recent recorded violation, if you get six or more points, you will be penalized with a $100 fee plus $25 for each point over six. You may be subject to an annual surcharge for three years if a surcharge based on accumulated points is applied.
For example, if you have seven points on your record, you will need to pay $100 for the first six points and an extra $25 for the seventh point. In total, you will need to pay $125.
How To Pay The NJ Surcharge Online?
If you have been surcharged, you will soon receive an envelope from the New Jersey Surcharge Violation System that will contain all the information about the bill. You can choose to pay the amount using your debit or credit card. Alternatively, you can pay the penalty online by visiting a website called NJSVS-Pay By Web.
You can use this website to check your surcharge records. You can even pay them using the same website. The website was built by the State of New Jersey to facilitate surcharge payments online. All you need to do is visit the website and choose one of the options from driver's license number, surcharge number, judgment number, installment payment plan number, or notice number. Then you need to select your date of birth and hit the submit button. You'll get your surcharge record and you can pay them using a debit or credit card.
Payment Modes Available to Pay the NJ Surcharge
Paying a surcharge is no big deal. This is because you have tons of options to choose from in order to pay your surcharge. Here are the payment methods to pay the NJ Surcharge:
You are allowed to pay using a money order or cheque. However, you are requested not to send cash. You can send your money to NJSVS at their address, which is NJSVS, P.O. Box 1502, Moorestown, NJ 08057-9704.
Visit www.njsurcharge.com to make an online payment with a debit or credit card or an e-check.
You can also make a telephone debit or credit card payment by calling (844) 424-6829, which is toll-free.
If you want to pay in cash, go to a Western Union location in New Jersey or anywhere in the country.
Is The www.njmcdirect.com Site Down?
The New Jersey City Court's online ticket payment system, NJMCDirect Pay, makes it simple to settle penalties for parking and traffic infractions. However, the NJMC website has been down for a long time.
If your Internet connection is operating properly but the error notice remains, you should contact the NJMCDirect Pay customer care service. They make it easier for users to finish the checkout procedure. Some of the greatest customer service experts in the country serve the NJMCDirect Payment platform. They will try to address your problem in a matter of seconds.
Alternatively, you can also pay for the fines by visiting the office in person or mailing the amount using a cheque or money order to their address.
1. What If My Check Bounces?
If your check bounces because of insufficient funds while paying your surcharge, you may receive a driving license suspension for an unspecified amount of time. Moreover, you will need to pay an additional $25 penalty for failing to pay because of non-sufficient funds.
2, What Happens If I Fail To Pay?
If you do not pay the surcharges when they are due, the MVC has the legal authority to initiate collection action, including, but not restricted to, filing a Certificate of Debt with the New Jersey Superior Court. The certificate, often known as a "judgment," enables the State to collect outstanding surcharges as well as collection costs and interest. Judgments restrict the transfer or sale of property and can result in wage garnishment.
Furthermore, your NJ driving license will be revoked until the minimum requirement is met and a supplementary $100 restoration cost is paid to NJ-AISC.
3. What If I Move?
Yes. Even if you move out of New Jersey and relinquish your New Jersey driving license, you are still liable to pay surcharges. Surcharge notifications are mailed to the last known address. Hence, if you relocate, you must notify Motor Vehicle Services within seven days.
You can do the above by simply mailing the payment to MVC Change of Address, P.O. Box 016, Trenton, NJ 08666-0016; or you can also call 1-888-486-3339 toll-free in NJ or 1-609-292-6500 from out of state.
Frequently Asked Questions:
How much is the NJ surcharge?
The surcharge for operating under the influence or refusal, whether in New Jersey or another state, is $1,000 per year for three years for both the first and second offenses. A $1,500 fee is levied for the third or subsequent violation that occurs within three years of the first violation.
Are surcharges legal in NJ?
Yes, the surcharges are legal in New Jersey. In accordance with New Jersey law, drivers who have committed specific traffic infractions must pay the surcharges. 
What is the insurance surcharge in NJ?
If you have seven New Jersey insurance points, you are considered an exceptionally dangerous driver and must pay automobile insurance surcharges.

What is an NJ surcharge violation?
If you have accumulated a particular number of motor vehicle points or have been convicted of specified traffic violations such as driving while intoxicated (DWI), driving an unlicensed car, or driving while suspended, you may be subject to a surcharge in New Jersey. 
What is a surcharge fee?
A surcharge is an extra penalty imposed on drivers if they are found to be committing certain violations.
Conclusion:
New Jersey's surcharge system is a very unique one, and in fact, it is the first state to legalize it in the entire country. The NJ Surcharge system makes sure that driving violations are kept in check. We hope that in this article, we have helped in understanding the NJ Surcharge system to its core.
The revenue collected is used to repay $705 million in bonds sold to pay off the Market Transition Facility's debt (MTF). The MTF provides motor insurance to people that are unable to get insurance on their own. A fraction of it is also used for the infrastructure of alcohol rehabilitation centers for addicted drivers. 

Also Check:
How to Pay Traffic Ticket Online NYC
NJ E-ZPass
Pay Ticket Online NJ