If you will violate any traffic rule in New Jersey, then you will have to pay some penalty. Besides this, you get some speeding tickets for over or under speeding while driving.
In New Jersey, these speeding tickets come with some points and heavy penalties. If you have a New Jersey driving license then you must take care that your speeding points must be less than 6 points on this license to avoid levying further surcharges and penalties.
You can use NJMCDirect.com official website to pay for your traffic violation ticket.
New Jersey Tickets Points System:
The traffic ticket of New Jersey has a moving violation point range of 2 to 8. This list can also be reviewed online.
Points for New Jersey speeding tickets
Following are some instances of points that can be received for speeding tickets in New Jersey:
1 to 14 MPH more than speed limit = 2 points
15 to 29 MPH more than speed limit = 4 points
30 MPH or more over speed limit = 5 points
If you will go slow and block traffic, then also you will receive two points on your driving record of New Jersey. Since speeding vehicles are the root cause of most car accidents. So this is the reason why it is taken seriously by law enforcement.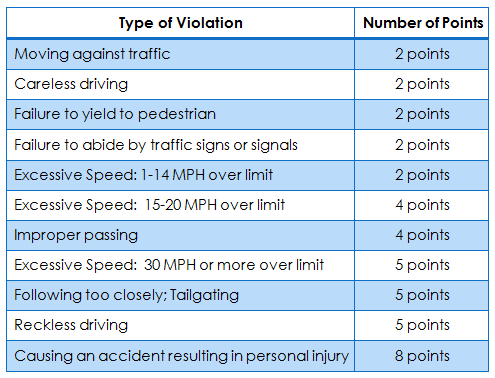 In New Jersey, the speeding ticket can be received from many different agencies of law enforcement which include a county Sheriff, New Jersey State Police, and departments of city police.
How many time points will take to come off from the NJ driving license?
In NJ every year a driver gets a reduction of 3 points for no suspensions or violations from the license. The year marks its beginning from the date of recent license restoration or last violation. Besides this, some programs are there for drivers that can be taken for points reduction like Defensive Driving Program that will reduce 2 points and can be taken once in five years.
The other program is Driver Improvement Program, which will reduce the points by 3 and can be taken in once in two years. Remember, the points total can be reduced but the convictions will remain the same on your driving record thereby impacting your insurance. So, try reducing convictions also.
Frequently Asked Questions:
1Q. Is it possible to have pleaded no contest in New Jersey to a speeding ticket?
Ans: Many states allow drivers to plead no contest to traffic tickets and refrain from some consequences. But this is not possible in New Jersey. It is a must for drivers to accept the guilt, plead guilty, and face the charges or the other way is the acceptance of a plea deal from the prosecution.
2Q. What is the law for the limitations of a speeding ticket in New Jersey?
Ans: There is no rule or law for the limitation on the NJ speeding ticket. It is mandatory for the drivers who have been issued speeding tickets to respond to the charges on or before the time given on the ticket in person. If anyone fails in doing so, then a Failure to Appear notice is issued and could also result in the arrest of the driver.
Conclusion
In New Jersey, all your driving records are tracked in New Jersey DMV and it also receives the information related to your speeding tickets regardless of the New Jersey law enforcement agency issuing it.